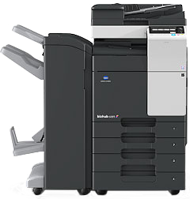 Speed A4/A3: 22/14 ppm in black & white and colour
Paper formats: A6-A3 and custom formats
Cost effective A3 colour model
State-of-the-art mobile printing technology
Perfect for the small office environment
Call 0800 061 4220 now for special deals on this product
Call now for a discount
Quote: PLS1 for your discount
Free delivery & installation
Quick delivery, professional installation
Nationwide service agreements
No small print, No contract cancellation fee
Excellent after sales support
Nationwide 4 hour response time
Multifunctional systems and applications from Konica Minolta bring together the digital and paper-based worlds. As a result, they can accommodate all the demands of modern business with smooth workflows that save you time and money.
Print and copy with absolute ease with the Konica Minolta bizhub C227
Not only do our multifunctional systems allow no-nonsense printing and copying, they're also brilliant at handling all kinds of media: formats ranging from A6 to SRA3, grammages from 52 to 300 gsm, plus user-defined formats and banners up to a striking 1.2 m in length.
The Konica Minolta bizhub C227 offers highly efficient scanning and faxing
Quick and easy scanning has become an indispensable part of everyday office life. Once digitalised, documents can be directly transferred to an electronic mailbox, an archive, a USB stick or an FTP server. Faxes can also be sent or received directly via a PC.
Open your eyes to perfect print quality with the Konica Minolta bizhub C227
You can enjoy high-quality printouts thanks to our high definition polymerised toner (Simitri® HD). At the same time your electricity bill is significantly reduced due to a lower melting temperature and power consumption.
The Konica Minolta bizhub C227 gives a professional finish
We offer a wide range of professional finishing functions, the likes of which you won't find anywhere else: from stapling and folding right through to brochures that are ready to go. A practical solution for handouts, direct mailings or customer leaflets.
The Konica Minolta bizhub C227 offers easy and customised operation
Large colour touch screen
Works like a smartphone
Fully functional Web browser
Customisation service: have the design and menu structure customised for your organisation
Konica Minolta bizhub C227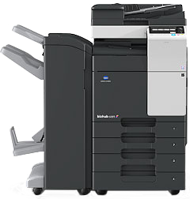 The Konica Minolta bizhub C227 is a colour A3 multifunctional photocopier perfect for the modern office.
Speed A4/A3: 22/14 ppm in black & white and colour
Paper formats: A6-A3 and custom formats
Cost effective A3 colour model
State-of-the-art mobile printing technology
Perfect for the small office environment
Category:
Copiers
In stock! Order now! Nationwide service agreements
Free delivery & installation
4.5

stars, based on

20

reviews

Konica Minolta bizhub C227